New Features & Improvements
Highlight the search result found by [Ctrl+F]
Attach Note to Attributes/Operations with Note Anchor
Start Astah from Exe format file
Dashed line is now available for DataFlow in DFD
More clear guidance in the result of diagram differences in [Compare Project] – [Show Diagram Difference]
Launch [Compare Project] by command line
Easier selection of text attached to the line
[Apply to existing elements] button is added in the [Initial Visibility] tab of Class Diagram and Requirement Diagram's property view.
Show message in console when an error happened with C++ Reverse Program
Launching of astah-command.sh is now in headless mode
Easy access to nested/related Activity Diagram from Structure Tree
Mind Map
Insert Mind Map Child Topic by [Tab] and a Parent topic by [Shift+Tab] key – Astah Shortcut Key List
Locate Mind Map's root topic in the center of the map (Was always shown in the top left)
Better performance when moving Mind Map Topics to attach to others
Scrolling Mind Map is available while creating a new topic by right-drag
API
Now the Astah API can detect when a model is selected in the Structure Tree or Diagram Editor in real-time
API extension for floating topics in Mind Map
API extension for new models in Activity Diagram
API extension for Note anchors for Attributes/Operations
Now Shared line style of Generalization is available by API
Now Shared line style of nested relationship is available by API
Now Subtype relationship in ER diagram is available by API
API now enables Plug-in to receive the selection of models with Event
Plug-ins
Switching ON/Off of Plug-in is now available from "Plugins" dialog
Supported edition and version for Astah can be specified in the Plug-in properties file now
Now Plug-ins would be installed in the home directory
Now more cases are supported for C++ Reverse Engineering Plug-in
Fixed Bugs
[21] Scrolling by using mouse-wheel is rather slow on the System Properties
[93] Unnecessary space is automatically included when exporting code
[162] Mini Icon list does not appear in Java7
[196] Astah cannot reverse the Java source code such as FastRemovalDequeue.Entry
[217] Astah does not show the file name correctly in the [Reference Model Management] feature if it contains canonical compositions on Mac
[223] Static Attributes defined as Association Ends would not be defined in exported CPP files
[235] Memory keeps leaking even after closing a file
[236] Saving a file fails if there is canonical compositions in a file path on Mac
[239] It fails to obtain the Subtype relationship type of ER Diagram by API
[240] When saving a file with another extension than .asta on Mac, a directory name will be automatically inserted in its filename
[249] An exception error happens when creating a new Mind Map by using API with current Mind Map's name
[263] When merging projects, Realization's parent operation detaches from its messages
[270] An exception error may occur by moving a part of Structured Class in Composite Structure Diagram
[304] Astah API does not handle the source and target of ER Diagram's Subtype correctly
[305] When creating ER Entity by using Astah API, they won't be created in default size/color
[315] Saving file with "Save as" with the same file name but in different upper case/lower case may fail sometimes
[337] Copying and pasting ER Entity may fail only if ER Entity itself was selected without its relationships
[394] Sometimes message's sequence numbers cannot be changed in Communication Diagram
[401] Moving a Node with a Component in does not change Component's coordinate
[421] Dragging a file into Traceability Map automatically creates a new topic
[422] Incorrect Attributes get exported when exporting Java of Structured Class if it contains a Part does not have a Type
[442] Copying and pasting of Association Classes with Objects create invalid models
[467] Some model element names cannot get copied in full length to the Clipboard
[473] If you include a file extension other than .asta in a file name once when saving a file, it will always appear in Mac every time saving a file
[4732] Object Node's property view does not appear when Object Node's state is selected
[4733] The Wrong message appears when exporting RTF in a path that is currently opened
[4747] When selecting a hyperlink file, the canonical compositions in the file name will be automatically shown in canonical decomposition
[4754] Copying Interface from another .asta and pasting it onto Class will lose its realization
[4769] An exception error happens by dragging an association end from the Structure Tree to Communication Diagram in the editor
[4771] It fails to select Attributes/Operations in the Class Diagram with the cursor
[4806] Creating Requirements/Test Cases of Requirement Diagram by using API creates Models in Class
[4831] The process never ends whilst using C# Reverse Engineering program
[4842] [Compare project] does not function correctly when one of the projects contain Statemachine diagram which has orthogonal state
[4846] Error message on exporting Entity Definition report does not appear correctly sometimes
[4850] ER Domains cannot be copied and pasted correctly between .asta files
[4851] Changing the color of models by using API without Plug-in does not work
Astah Professional 6.6.4
Content Assist for Type and Operations within Sequence Diagrams.. helps you model faster!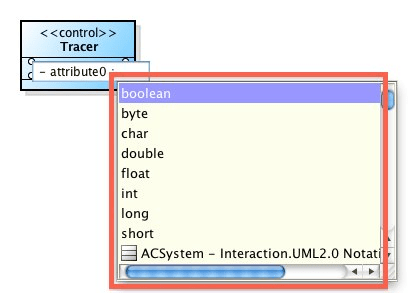 API Extension – More than 10 new API methods to access models. This is even easier with the free Script Plug-in.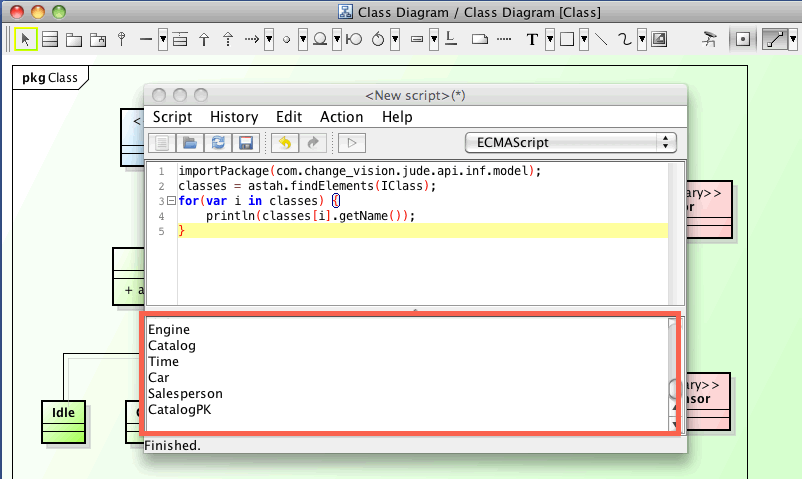 Fixed Bugs
[1973] Hyperlink setting (files) is not available after importing XML files.
[1861] Using platform-dependent characters in Windows8 crashes Astah.
[1828] [Export Java] export Class methods duplicated.
[1586] Calling IAttribute.setComposite() could set incorrect values for Composite.
[1572] An exception error occurs by setting an inappropriate Class for Template Parameter.
[1571] Files won't open by double-clicking .asta file on Linux if its file path contains space.
[1337] Astah may not launch with any plug-ins stored under $USER_HOME/.astah.
[1331] An exception error could occur while importing/editing Mind Maps.
[1316] Command Line tool may fail sometimes on Mac.
[1188] Nautilus and Astah icons are not associated on Linux.
[1140] Mind Map branches get the wrong colors by pasting Mind Map from another file.
[1093] Drag and drop doesn't function for Sequence diagrams if it is selected with DiagramDropTargetListener
[1086] createLinkPresentation(dependencyModel, supplierPs, clientPs) creates new dependencies.
[1060] Cloning Mind Maps could cause an exception error.
[1016] Activation of Node Count Licenses could fail on Mac.
[961] Non-referenced models's Pop-up menu appear grayed out.
[898] Unable to convert ER Entity's Attributes to Class's Attributes.
[880] Directory or file names do not appear completely on Mac with Java7.
[714] An exception error occurs when creating a new mind map after failing the import of XMI file.
[629] [Ctrl+B] and [Ctrl+I] keys do not function on Requirement Table.
[607] Deleting ER models could throw an exception error.
[601] Appearance of Node in Mind Map topics gets garbled in the Structure tree.
[585] Merging models after moving a Requirement to another Requirement could generate invalid models.
[581] [582] [583] Copying and Pasting State Invariants/ InteractionUse/ CombinedFragments over .asta files could generate invalid models.
[578] Merging files from [Reference Model Management] when diagrams are open in Diagram Editor could throw an exception error.
[551] MIME Type of .asta file specified in Linux is incorrect.
[540] Unable to convert Association Classes to Associations if the Association Classes have self-association to SubSystem.
[533] Classes with the same name can be created incorrectly under SubSystem by dragging and dropping the classes from the Structure Tree to diagram.
[524] Suggest feature doesn't appear for Messages in Sequence diagram.
[485] Importing Java files with [Subdirectory] option checked freezes Astah.
[479] [Shift+Enter] doesn't function to create new Attributes on Mac.
[468] Charset option on [CSV Export] dialog does not function.
[257] Alias view does not expand at all on Mac.
[236] Saving files fails on Mac if the file patch includes canonical compositions.